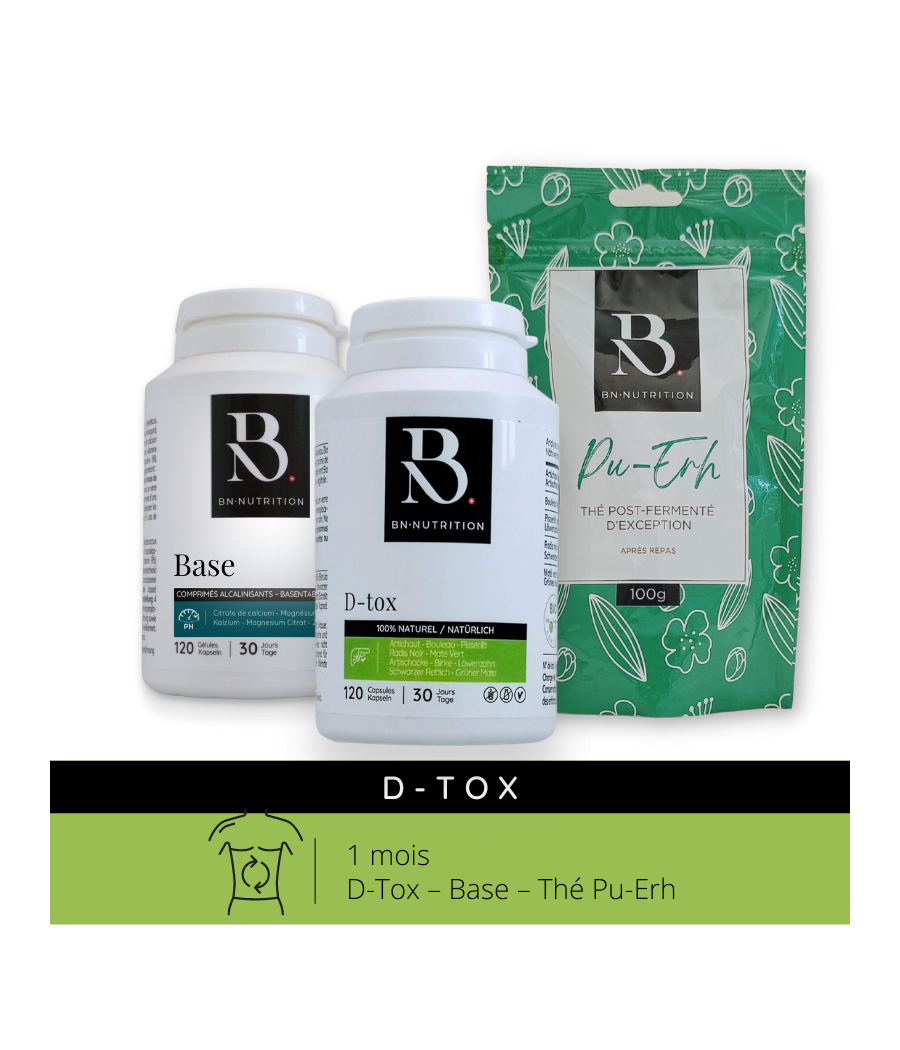 Chitosan contributes to: 
Maintaining normal blood cholesterol

Absorbing the fats of the food
An important antioxidant action and contribution to the metabolism of fatty acids

Pu-Erh tea is a post-fermented tea, reknown for its ability to detoxify the body and aid digestion, which makes it an excellent tea to drink after meals.

BN Base is an alcalising drink preparation made from raw plant extracts and minerals. With extracts of elderberry, lime tree, fennel and chamomile Rich in potassium, calcium, magnesium, zinc, vitamin D and silica, low in sodium Fresh and neutral taste No preservatives Suitable for vegetarians
Nouveau Pack
Ce pack était récent, aucun avis n'a encore été déposé.
A tester
J'ai du mal à juger l'efficacité; je n'ai pas vraiment noté de différence mais peut-être aussi que je n'en avais pas un besoin extrême. Les comprimés sont OK, la tisane très bonne. Par contre, la boisson base, le goût est vraiment mauvais. Pour que ça passe plus facilement, je versais la poudre dans ma bouche et avalait avec une gorgée de tisane.
Le client a noté le produit mais n'a pas rédigé d'avis.
Nouveau Pack
Ce pack était récent, aucun avis n'a encore été déposé.
Natural ingredients only

No added sugar

No dyes
Want to know
more?
Chitosan contributes to maintaining normal blood cholesterol. It links to fats in the intestine allowing for their breakdown.
The beneficial effect is obtained by the daily intake of 3 g of chitosan.