Organic Guarana 120 gel. 350 mg
Guarana is a small tree that grows in the Brazilian Amazonian forest. Its seed has a very high concentration of caffeine – the highest natural rate in the world. 
Rich in caffeine (guaranine) and tannins


Proceeds from certified organic farming, guaranteed GMO-free


Checked according to Swiss security and quality standards


No preservatives, artificial colourings or flavourings
Energie
mais malheureusement accompagnée de constipation légère (ce n'est pas la première fois que cela m'arrive avec le guarana). Pas remarqué de changement métabolique.
Guarana
Avant de faire le défi reset, je buvais du Redbull afin de rester éveiller quand je dois conduire de longue heure pour mon travail. Maintenant je prends 2 capsules Guarana qui est beaucoup plus sain et cela permet de terminer mes longues journées plus facilement!
Le client a noté le produit mais n'a pas rédigé d'avis.
Le client a noté le produit mais n'a pas rédigé d'avis.
Lactose Free

No added sugar

Bio

No dyes

Gluten Free

Natural ingredients only
Want to know
more?
Traditionally, the pit of this Amazonian fruit is used by American Indians against fatigue. They used to suck the guarana or Warana pit during the long hours they spent hunting in the forest. .
Amazonian guarana actually is the plant with the highest concentration of caffeine which improves concentration, performance, wakefulness and attention.
What is the difference with caffeine found in coffee?
The tannins and saponins contained in the guarana seed seem to block the bad secondary effects of caffeine. In effect, thanks to them, the active ingredients are released more slowly (6 to 8 h). A balance is thus respected thanks to the complexity of the seed's composition as a whole, which would not be the case if the caffeine was extracted from the seed.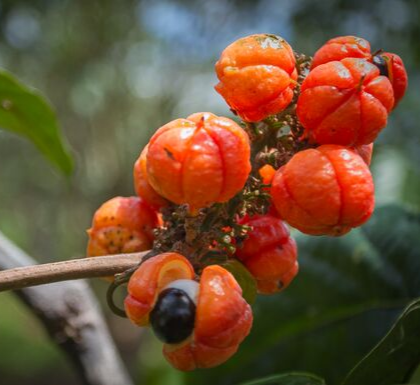 Proceeds from certified organic farming
Increasing demand for guarana has led to some Brazilian farmers using GMOs or numerous pesticides. Our guarana is certified 100% organic by Bio.inspecta. This means that no harmful chemical treatment has been applied and that strict controls have been carried out on the farm and also in Switzerland, so as to respect high safety and quality standards.
100% natural
Each capsule is composed of organic Brazilian guarana: no preservatives, no colourings or artificial flavourings are added so as to propose a 100% natural and additive-free product. As for the capsule itself, it is of plant origin.