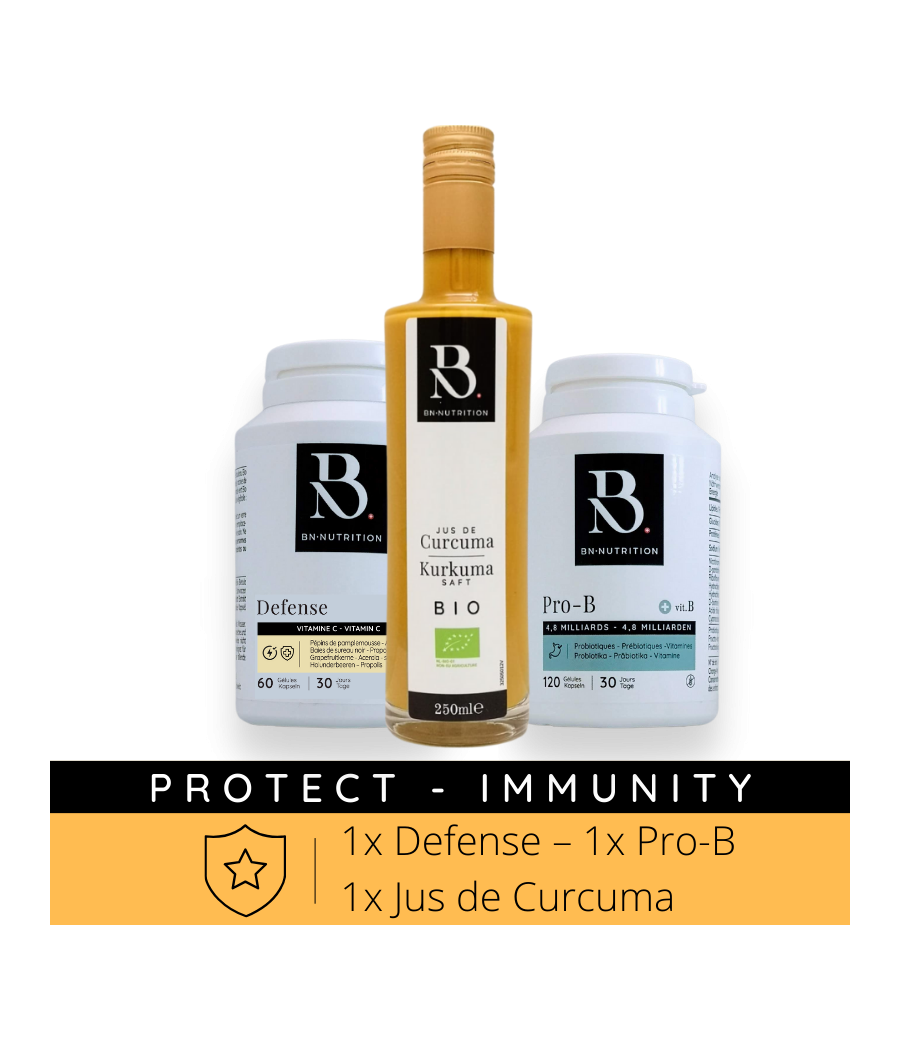 By reinforcing a varied diet, quality sleep, regular physical activity and appropriate stress management, micronutrition can help strengthen your immunity.
In addition to the pack, you will receive advice to boost your defenses in a natural way.
Turmeric is a spice that is widely used in India, and has long been valued for its exceptional antioxidant properties. Pure undiluted turmeric rhizome juice Certified organic farming  Produced from a unique extraction process that preserves all its active ingredients No preservatives, colourings or flavourings

Specifically selected probiotics, composed of 4.8 billion bacteria. 5 different complementary sources Supplemented in prebiotics and group B vitamins (1, 2, 3, 5, 6, 8, 9 and 12) In a vegetarian capsule for complete protection of the milk ferment strains Produced and controlled in Switzerland

35.10 CHF

39.00 CHF

In Stock

La vitamine C, associée à l'extrait de pépins de pamplemousse, au sureau et à la propolis, contribue à un fonctionnement normal du système immunitaire et à la réduction de la fatigue. 2 gélules apportent 50 mg de vitamine C, c'est à dire 62% des valeurs nutritionnelles de référence Jusqu'à 6 gélules en cas de besoin, soit 186% Élaboré et contrôlé en...
Très contente
Je suis très contente avec ce pack protect. Je combine les pro b et la spiruline depuis quelques mois pour avoir assez la pêche (malgré certaines petites nuits) en tant que maman allaitante ;-)
Le client a noté le produit mais n'a pas rédigé d'avis.
Le client a noté le produit mais n'a pas rédigé d'avis.
Le client a noté le produit mais n'a pas rédigé d'avis.
Want to know
more ?
This pack contains two of the most used supplements:
2x Spirulina
This alga is considered a superfood. Indeed, spirulina is a micro-alga extremely rich in proteins, very good source of iron, vitamins, minerals and trace elements.
Powerful antioxidant, stimulates and strengthens the immune system.
2x Probiotiques 
Probiotics are microorganisms that aim to help the intestinal flora, and this by promoting the presence of good bacteria to allow it to perform its functions properly.