Pure organic turmeric juice 250 ml
Turmeric is a spice that is widely used in India, and has long been valued for its exceptional antioxidant properties.
Pure undiluted turmeric rhizome juice

Certified organic farming 

Produced from a unique extraction process that preserves all its active ingredients

No preservatives, colourings or flavourings
Impossible de m'en passer...
Cela fait maintenant 3 ans qu'Olivier m'a fait découvrir les bienfaits du "Jus de Curcuma"... Je ne peux plus m'en passer, une cuillère de jus, un demi citron pressé (bio stp...), le tout allongé d'eau tiède, et vous obtenez un magnifique breuvage qui ressemble à un jus d'orange pressé... au niveau aspect bien sûr. Même en voyage je prends mon jus de curcuma, dans des petits récipients de 100ml qui sont autorisés par les compagnies aériennes. Pour moi, c'est un MUST...
Une cuillère par jour
Jamais sans mon curcuma! A mélanger avec le jus d'un citron et un peu d'eau tiède, et la journée peut commencer!

Le client a noté le produit mais n'a pas rédigé d'avis.
Impeccable
Très bon et surtout fort pratique pour préparer sa boisson matinale
No dyes

Natural ingredients only

Additives Free

No added sugar

Bio
Want to know
more?
Turmeric is a plant that is grown in India and Malaysia. The spice of the same name is extracted from its rhizomes (roots), which have been reduced to powder. It is often used in Indian cooking and science has shown that it is extremely beneficial thanks to the curcuminoids - natural antioxidants - and the natural oil that it contains.
Our innovative extraction techniques enable us to gather and preserve all the active substances of fresh turmeric; both the turmeric and the essential oil contained in turmeric juice remain intact. Their properties can then be combined for improved absorption by the body, even without the addition of pepper.
Juice or powder?
Turmeric powder is made from dried turmeric rhizomes. As such, it does not contain any essential oil, and pepper (or piperine, the active substance in pepper) therefore needs to be added to it in order for it to be absorbed by the body. This means that turmeric juice produced from a good extraction process is the most complete and natural form.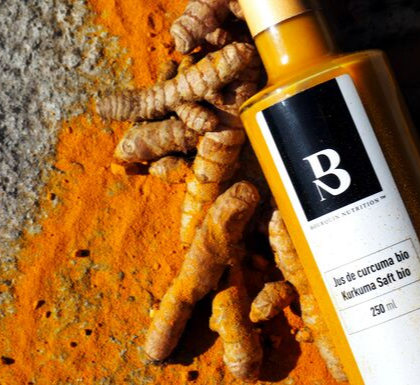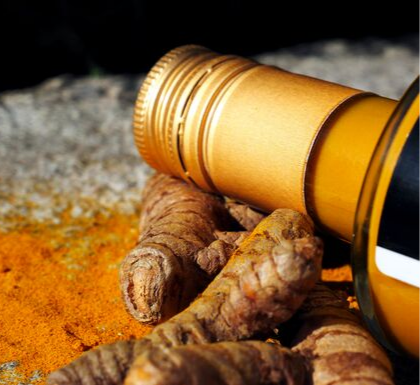 Product of certified organic farming in India
Our turmeric comes from India. It is certified 100% organic and inspected by Certisys BE-BIO-01. No pesticides are used and a rigorous inspection is undertaken to ensure compliance with high safety and quality standards. What is more, our turmeric juice is 100% pure: it is undiluted and does not contain any preservatives, colourings or flavourings.